Vista Valley P.T.A. Classic XXX Parody
Views: 202
Vista Valley P.T.A. Classic Parody Movie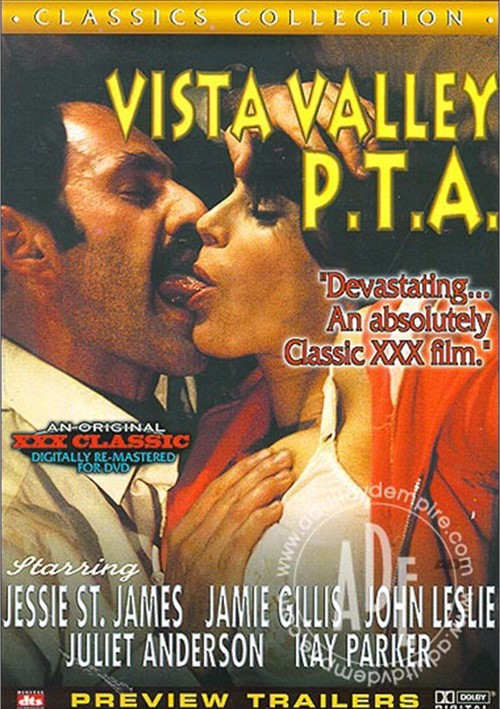 Get ready for a genuine classic piece of porn cinema with infamous porn star Kay Parker. The story unfolds in a small town high school, and one teacher in particular wants to give her students a few lessons that don't normally stand in the timetable.
A legitimate classic of the early eighties if ever there was one, Anthony Spinelli's 1981 Metro Films production of Vista Valley PTA is a fantastic XXX take off on the popular Barbara Eden song (Harper Valley PTA for the uninitiated) and the subsequent television show that it inspired.
Devastinting An Absolutely Classic XXX Film.
An astonishing adult film 'Vista Valley P.T.A.' unflinchingly brings the sin in the suburbs to the screen with amazing realism as the students of Vista Valley High School and their parents mix it up sexually among themselves and each other!
Vista Valley is a suburban nest of sex perversion, greed and out-and-out lust. From classroom to board rooms to bedrooms. 'Vista Valley P.T.A.' is crowning achievement!!!
Jesie St. James is the next in a long line of teachers to take on a troubled class of high schoolers in a small town with a beautiful suburban exterior that hides an underbelly of dysfunctional relationships, sexual deviancy and profound rebellion.
Knowing that the last two teachers in her position were accosted, Ms. Martin implements her strong personality in a bold attempt to bring order to the town. Despite her noble efforts, Ms. Martin finds herself in a twisted web of sin, seduction and sex.
VISTA VALLEY P.T.A. stars one of the greatest ensemble casts ever compiled. Directed by the legendary Anthony Spinelli, shot on film and digitally-remastered, this is a true masterpiece that remains a hallmark of its day.
Stars: Kay Parker, Jessie St. James, Kitty Shayne, Sharon Kane, Juliet Anderson, Desiree West, Dorothy LeMay, Shirley Wood, Dewey Alexander, Jamie Gillis, Aaron Stuart, Grant Lombard, John Leslie, Lee LeMay, George Spelvin, John Seeman
Director: Anthony Spinelli
Studio: Cal Vista Classics (VCX)
Genres: Adult | Parodies
Length: 1 hrs. 25 mins.
Released: Feb 16 2001
Vista Valley P.T.A. XXX Parody Movie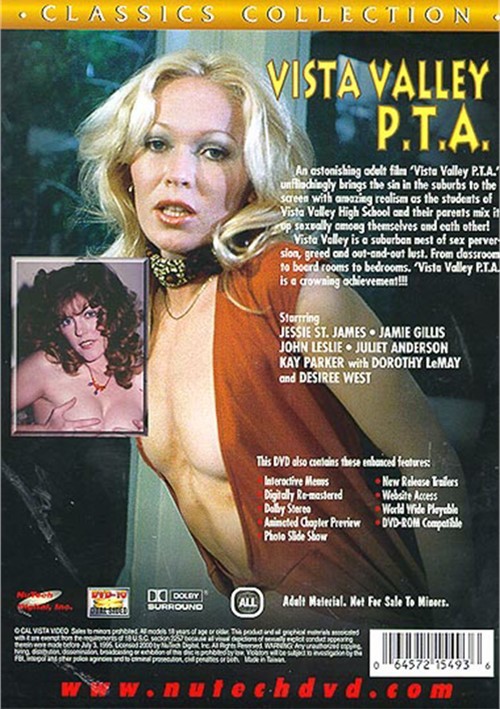 Vista Valley PTA features a great cast in their prime who can actually act far better than most probably expect porn performers to be able to. The 'taboo' sex scenes are hotter than the majority of material from this era and the picture is well directed, wholly entertaining, and plenty steamy. VCX's transfer could have been a bit better but it's not bad and while the extras are repetitive (some retrospective interviews or commentary tracks really would make this line of classics far more interesting) it's hard not to recommended this disc based on the strength of the movie.
Babes 18+ Every day with new experiences.
Porn Studio's most glamorous and beautiful erotic xxx videos, classic porn movies, adult-dvd, porn parody movies, various celebrities leak sex tape and with many adult contain. Very attractive erotic girls and guys who love hot shoots exclusively and only with first-class models porn videos.
Cal Vista Classic Presents Vista Valley P.T.A. Classic XXX Porn Parody