The Art Of Anal Sex Dvd from Tushy
Art Of Anal Sex, The
Studio: Tushy
Movie Series: The Art Of Anal Sex
Director: Greg Lansky
Starring: Cherie DeVille, Chris Strokes, Christian Clay, Ash Hollywood, Samantha Rone, Sabrina Banks, James Deen, Manuel Ferrara.
Length:  02:45:00
Released: Nov 25 2015
TUSHY.com proudly presents its newest series "The Art of Anal Sex," captured by award winning director Greg Lansky, featuring exclusive first anal experiences in each scene. Watch sultry cover girl Cherie DeVille repay a debt with her anal virginity. Blonde babe Samantha Rone's celebrity interview takes an unexpected turn towards the naughty. Ash Hollywood gives a passionate performance as she experiences anal ecstasy for the first time. Natural beauty Sabrina Banks gets her anal cherry popped after babysitting. Featuring quality and next level production values, "The Art of Anal Sex" is cinematic hardcore sex like you've never seen before!
Award-winning director Greg Lansky delivers the newest in next level porn with his new series The Art of Anal Sex. This epic 2 hour and 44 minute movie chronicles the first anal sex experiences of 4 starlets, cover girl Cherie Deville along with Ash Hollywood, Samantha Rone   and Sabrina Banks. The high quality production and attention to cinematography and all other details that Lansky has been building a name around are all evident in this anal feature. Each scene has a storyline set up that takes these girls down a path that leads to cock in the ass. Featured on the flick's cover, Cherie Deville has a big debt to pay and she tries to talk her loan shark, Christian Clay, into taking her wedding ring as a deposit. He decides to take her virgin ass hole instead, pounding it hard and sending her home debt free. Ash Hollywood is for hire and Chris Strokes fucks her ass hole into complete submission, while Samantha Rone is a naughty interviewer who gets her ass disciplined like only James Deen can do. Sabrina Banks is a great babysitter who soon learns that her boss, Manuel Ferrera, will pay whatever she wants if she lets him fuck her ass hole when his wife isn't home. These scenes are shot extremely well, the girls are a pleasure to watch and the anal action is hot. I highly recommend this movie. This new series is one to watch.
Scene 1:   Cherie Deville and Christian Clay
Cherie and her husband are distraught. They borrowed money from Christian and now they're having trouble paying him back. They've thought of everything, even selling the car and giving him Cherie's wedding ring as a deposit. Her husband won't stand for it. Cherie convinces him to let her go talk to Christian herself. She deals with problems like this all the time at work and she knows she can talk her way out of this situation. He agrees and the next day Cherie pays Christian a visit. He's a busy man and he doesn't have a lot of time to spend with her. She starts explaining that her and her husband are short on funds this month. She tries to give him her wedding ring as a deposit, but Christian gives it back to her and tells her she can keep it. He tells her that she disrespected him. He makes her call her husband. Christian tells him he's going to fuck Cherie and make him listen for the missed payment. He throws Cherie across his legs and starts spanking her hard, making her ass cheeks turn red. Her pussy is getting wet and Christian starts playing with it and spanking her even harder. Cherie can't believe she's enjoying this. After playing with her pussy and fingering her asshole, he bends her over doggystyle on the bed, stripping her out of her clothes. He starts eating her pussy again and stuffing his fingers down her ass hole. It's not long before Cherie is spitting up and gagging all over his cock, dropping to her knees and sucking him off. After licking his balls, she lies on her back and spreads her legs open wide and gets fucked missionary style.
Christian grips her by the ankles and spreads her legs wide while fucking her. Cherie tells him her pussy is his as he fucks her harder and harder. She tells him to fuck his money out of her pussy. The fucking gets hot as he puts her in a shoulder holder, keeping her legs up of his shoulders and drilling deep inside her wet snatch. Cherie tells him she's cumming on his cock while he pounds her. Cherie's anal fucking begins with her lying back near the edge of the bed. She spreads her legs wide and Christian walks up and stretches her ass hole with his cock. He works his dick in her hole slowly, pushing it to the limit. She turns on her side and gets spoon fucked up the ass. Cherie gets into some ass to mouth action, sucking her ass juices off his cock then she sits on his hard meat in reverse cowgirl position, taking it even deeper and harder up her ass hole. He makes her ass hole gape as they switch to doggy fucking up the sphincter. Cherie is satisfying her debt, letting Christian fuck her up the ass. The anal sex gets hard and rough in doggy position and Cherie begs him to cum all over her face. He pulls out and she quickly drops to her knees with her mouth open wide. Christian shoots his load in her mouth, splashing her tongue with cum. Lucky for her, this pays off the debt.
Scene 2:   Ash Hollywood and Chris Strokes
Chris calls Ash and tells her to be at his house at 3pm and do what he says. He bought an outfit for her to try on. She walks in and tries on the sexy lingerie and rubs her body up against his. She can tell that he's already turned on as she starts kissing him. Ash has a beautiful body and she is steamy in her lingerie outfit. Chris tells her he wants to lick her ass right here and now. She bends over doggystyle, revealing a perfect round ass. Chris pulls her G-string over to the side and starts tonguing her ass hole. She thanks him for the tongue lashing, moaning in ecstasy. He starts fingering her ass hole, opening her up more and more. The action turns to Ash's cock sucking skills. She deep throat's Chris' cock, jerking it off in her mouth and swallowing it whole. She turns from sucking his dick to licking his balls then goes back to sucking his dick again. The cock sucking action heats up now with Ash on her hands and knees doggystyle deep throating his meat. She gags on it then stuffs it back down her throat.
She lies back and opens her legs up wide to take Chris' cock in her pussy. He pulls the string attached to her neck while he penetrates her pussy, pumping in and out of her hole. She fingers her clit, letting her head drop back in ecstasy while Chris stuffs her snatch. She moves to the edge of the bed, keeping her legs open, allowing Chris to plow deep in her ass hole. The pumping is slow at first and Ash is enjoying every stroke, telling him to keep fucking her just like that. The camera takes a close up shot of Ash's ass hole getting fucked as she tells Chris to stretch it. The anal romance switches to spoon position with Ash fingering her clit while Chris' cock opens up her ass. She rides his cock in reverse cowgirl position then sucks up her ass juices off his meat until he stands over her and jerks off in her face, shooting cum on her cheeks and in her mouth. She sucks his cock and thanks him for the anal fuck.
Scene 3:     Samantha Rone and James Deen
Samantha gets dressed and waits to conduct her interview with James. She waits patiently and finally James arrives. He apologizes for being late. Samantha is so excited about being given the chance to interview James for the story she's working on. Samantha starts asking him questions about his acting career but soon her questions start to get sexual in nature. She asks him how often he has had casual sex this week and how many girls he fucked recently. James is pissed by the line of questioning and asks her if she's trying to piss him off. Samantha starts giggling and James soon realizes that she wants him to punish her. He bends her across his knees and starts spanking her ass hard, making her cheeks turn red. She likes getting spanked and wants James to do it again and again. He starts spreading her ass cheeks and fingering her ass hole, making her body flinch. She sits on James face then bends over doggystyle for more ass tonguing. She screams out as James buries his face between her ass cheeks. He keeps her in doggy position and sticks his cock in her pussy and his thumb in her ass hole, plugging her holes and keeping her screaming. She tells him to fuck her and James starts pounding her hard and spanking her ass cheeks.  The doggystyle fucking continues and Samantha is enjoying getting fucked.
She turns around and gets her throat fucked until she chokes up on his cock. James grips her hair and fucks her mouth, making her dribble. She grabs his cock and balls and deep throats his dick then lies on her back at the edge of the bed, spreads her legs wide and gets her ass hole plowed by James' dick. He fucks her hole and fingers her pussy at the same time and it has Samantha begging James not to stop. She tells him to keep fucking her and fingering her pussy until she cums. She gets fucked up the ass in spoon position and is cumming again. The anal fucking moves to standing doggy and Samantha is still begging for more, telling James to keep going. It's the reverse cowgirl anal fuck that has her screaming and cumming the most. After pounding her ass hole, James pulls out and cums in her mouth and on her face. She sucks his cock and blows bubbles with cum in her mouth.
Scene 4:   Sabrina Banks anal at Tushy.com. Sabrina Banks and Manuel Ferrera
Sabrina is the best babysitter there is. She is doing her homework in the kitchen. Manuel comes home and asks her if she has any plans this weekend. She wanted to go to an even this weekend but she can't now. Manuel feels sorry for her and decides to give her some money to cheer her up. He pulls out hundreds of dollars and starts giving them to her. She can't believe how much money he's giving her. He asks her if she likes being taken care of as he slips off her bra strap. Sabrina is unsure of what to do with his advances at first, but he tells her she just needs to take care of him when his wife is not around. She takes off her dress and starts kissing him. Manuel grips her ass and leads her to the bedroom. She lies across the bed and he starts kissing her all over her body, licking her nipples then making his way down to her pussy and ass hole. He stars fingering her ass hole, making Sabrina scream out. She tells him it feels so good as he sticks 1 finger in there and then 2 finger deep in her hole.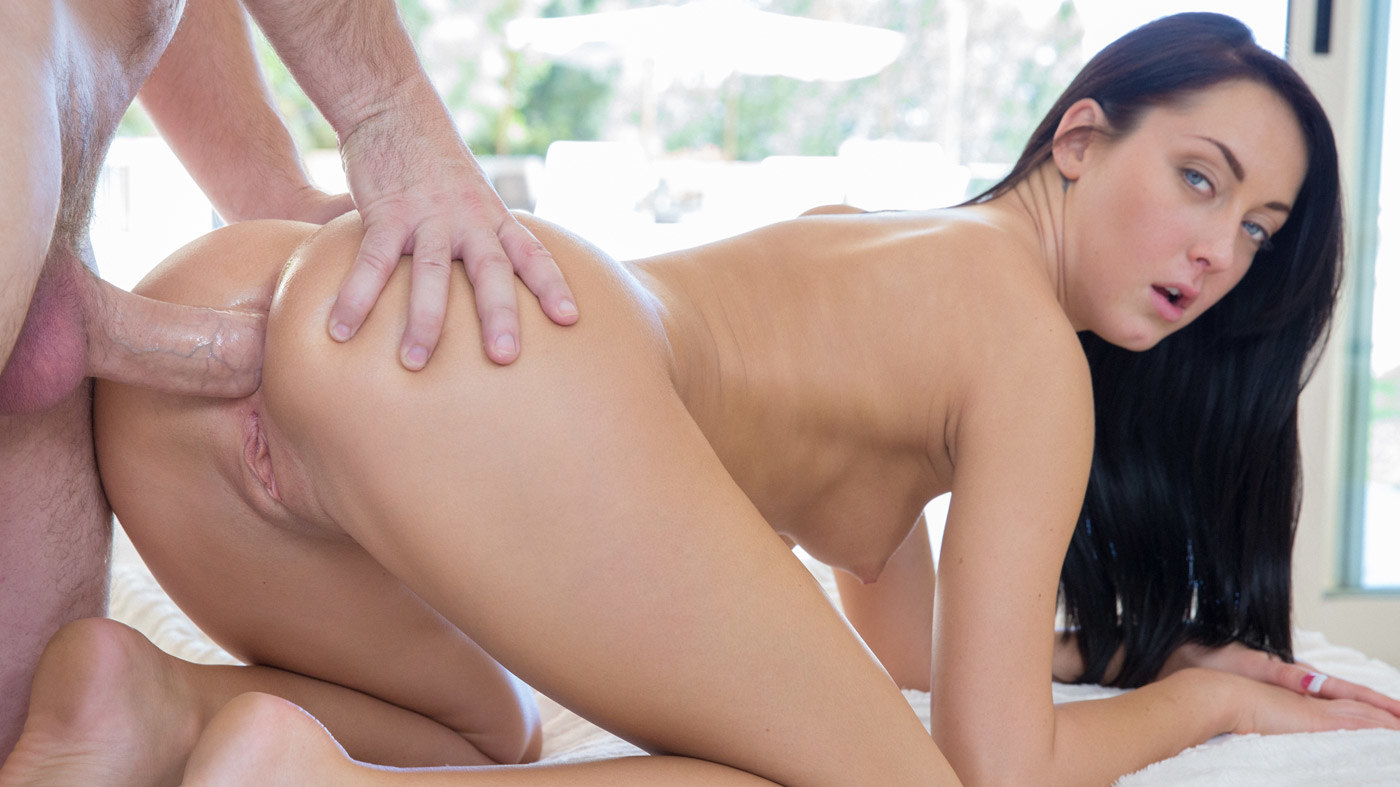 She returns the favor by sucking his cock. He tells her to stroke his cock and take his time on his dick. She fingers her pussy while sucking his cock. The fucking begins with Sabrina in missionary position with her leg over Manuel's shoulder. He fucks her pussy, keeping her in ecstasy. She fingers her clit while he fucks her pussy. It's so tight and tiny, she can't take it all. They kiss passionately and she stays in missionary position with her legs open even wider this time in order to host his cock in her ass hole. She tells him his cock is so big as he pushes it deeper and deeper in her ass hole. He stuffs her pussy full of fingers and keeps his cock deep in her ass hole, sending her further into ecstasy. She gets into a sloppy ATM then sits on his dick in reverse cowgirl position, sliding her tight little ass hole down on his cock. She takes a break just for a minute to suck his dick then she gets on all fours for some doggystyle anal pounding. Her tight ass hole takes all of Manuel's meat as he tells her to stay right there while his cock dives deep in her hole. He makes her ass hole gape then pulls out, stands over her and cums all over her face and in her open mouth.
Final Thoughts:
In the Art of Anal Sex, 4 sexy starlets find themselves headed down a path that leads to a hard cock in the ass. It turns out that these 4 anal virgins like getting their ass holes fucked.  Award-winning director Greg Lansky presents his new series, the Art of Anal Sex, and it delivers on the next level porn that he has become known for. The flick runs over 2 hours and 44 minutes and features flick cover girl Cherie Deville along with Ash Hollywood, Samantha Rone and Sabrina Banks. Nothing is lost on overall porn production quality, lighting, setting and storyline. And the anal sex is hot to watch too. Cherie Deville pays a greedy loan shark the debt she owes by letting him romance her ass and Ash Hollywood is submissive for the day, getting her virgin ass hole pumped. Samantha Rone is conducting an interview for her story but her naughty behavior leads to her ass getting dick disciplined. And Sabrina Banks learns she can make more money letting the boss fuck her up the ass than she ever could babysitting. I highly recommend this movie and look forward to the rest in the series.
The Art Of Anal Sex Dvd from Tushy