Open Ended 3 – Hottest SexoFilm
Open Ended 3 (2015) – Porn DVD
Studio: Evil Angel
Director: Jonni Darkko
Starring: Adriana Chechik, Lea Lexis, Proxy Paige, Tiffany Doll
Length: 3 hrs. 00 mins.
Release Date: Sep 21 2015
Category: Anal, Gonzo, Hardcore, Lesbian
Huge Insertions, Huge Toys & Assholes Wide Open
Veteran director Jonni Darkko enters territory ripe for exploration. His latest POV-style festival of anal perversions, Open Ended 3, features four of the most gorgeous and kinky butt-sluts in the business using massive toys (including giant spheres, inflatables and metal speculums) to stretch their tender sphincters, with lots of thick, gooey lube, crazy gaping and ass-to-mouth sucking. The director even butt-fucks these horny bitches!
Hot Young Brunette Beauty Adriana Chechik Takes Huge Toys up Her Ass and Finally Fucked
Starring: Jonni Darkko Adriana Chechik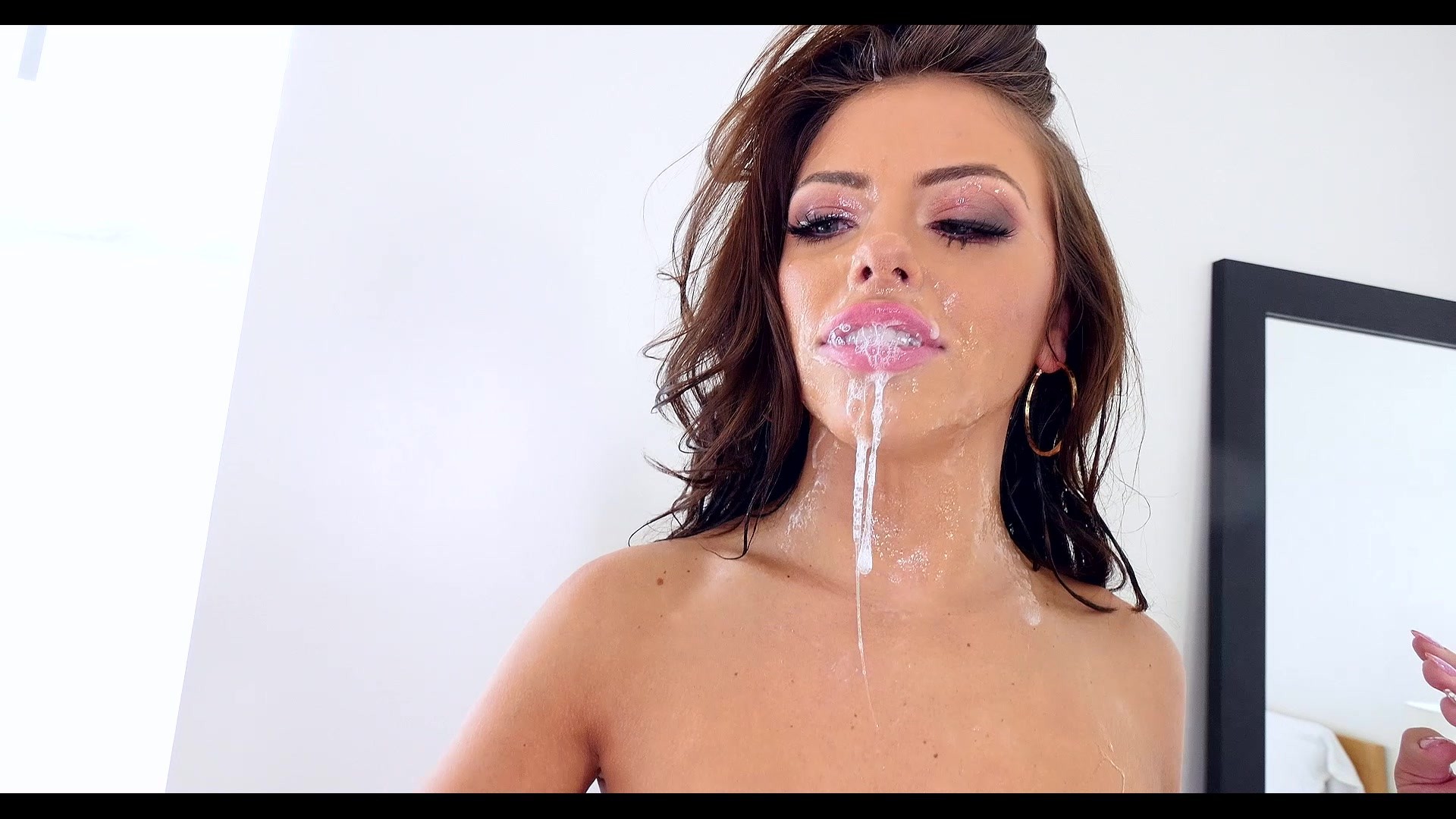 The premiere scene in Jonni Darkko's third installment of his Open Ended series kicks off wonderfully with a 4 minute, cock stiffening tease sequence from porn's elite anal bombshell Adriana Chechik. The opening moments are short and sweet, leading into some filthy-mouthed dirty talk from Adriana before she yanks off her red panties and throttles her asshole with a gargantuan glass dildo to start. Adriana switches dildos at various points throughout the scene, going bigger and bigger while stuffing each and every one of them into her throat directly from her anus and keeping things nice and sloppy upon progression. Our director lends a helping hand through most of the early moments of the scene, squirting lube into her gaper before she squirts it out and slurps it up for added effect. Sex sets in at around the 18 minute mark, giving us some choice POV viewings of Darkko blasting Adriana's 2-hole while adding in a few cocksucks for good merit, with the diirector's cut on the website giving us some ass-fisting fun that gives a nice bit of contrast to the scene. Things ultimately cap off with a face blast from Darkko, covering Adriana's already spit-soaked face before she snaps some selfies for the twitter fans at home and the screen fades. Great scene here; those who have yet to jump on the Adriana Chechik bandwagon must have been sleeping under a rock for the past 10 months because this girl is about as good as it gets these days. Adriana has brought back the believably slutty girl to porn that we all remember from the mid-2000's, and she's putting a nice exclamation point on her horde of amazing scenes she's performed in this year.
Pretty Brunette Tiffany Doll Gets Her Holes Filled with Huge Dildos and a Big Dick
Starring: Jonni Darkko Tiffany Doll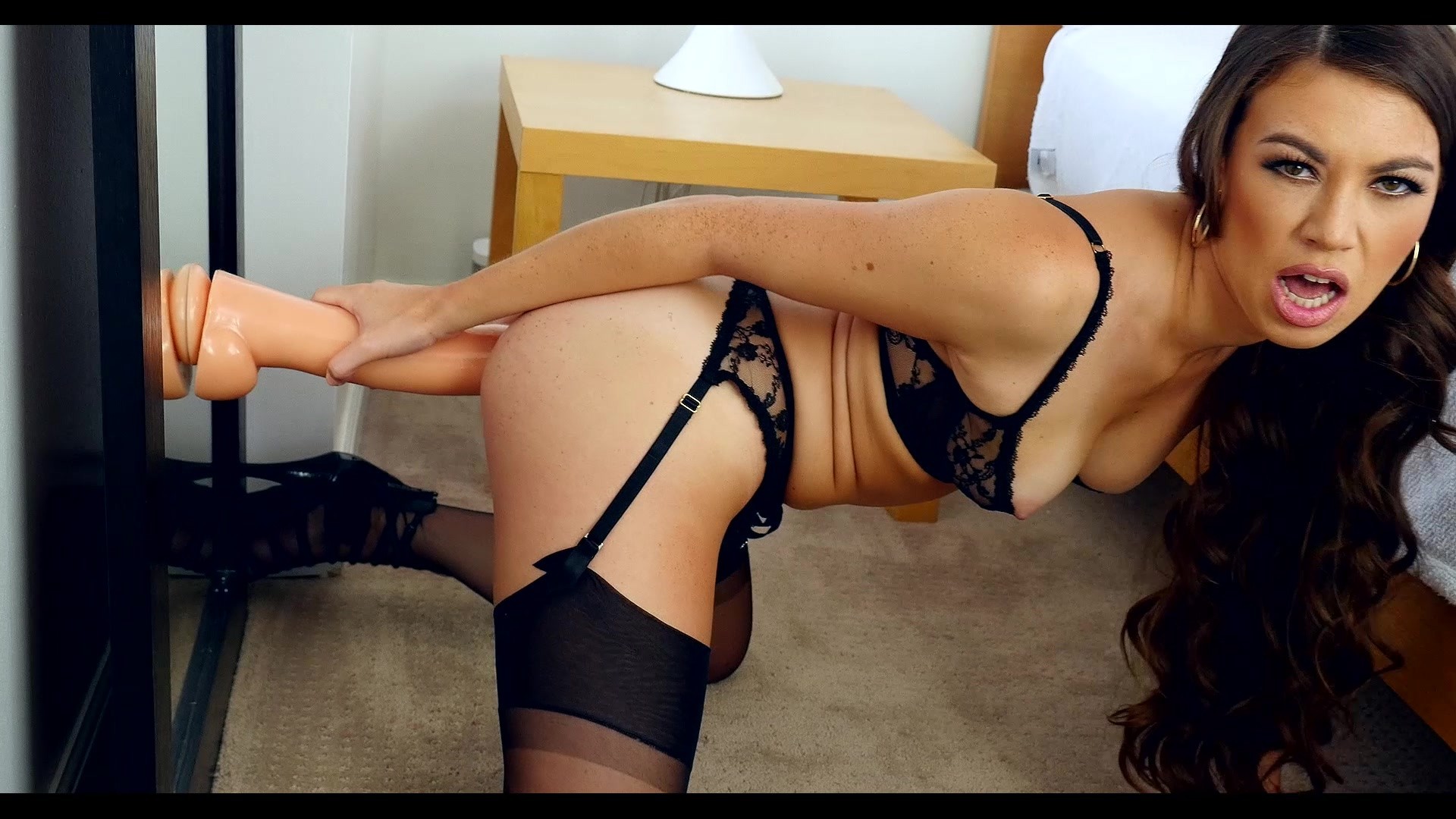 Lea Lexis is next on the docket, starting the scene out in the same fashion as the previous effort as she prefaces things by telling us about how stuffed her asshole is going to be in the next few minutes. Lea is shirtless upon the opening, rummaging through her gaggle of dildos that lie in front of her, stuffing them into her asshole and making her most dire attempts to deepthroat them while mixing in a flurry of slopped up spits in the process. The scenes loaded with ass gapes and pussy prying, with the dildos ranging from huge to "huger" before Darkko hands the camera off to a friend, munches her pussy and has a go at her himself in the later stages. The scene ends with Lea being the recipient of a long distance face-blast of jizz, looking gorgeous in the closing segment as she giggles and smiles as the juices drip down her face. Another solid effort here overall, Lea is always a great watch and this scene is no exception. Good times.
Dark Haired Babe Lea Lexis Gets Huge Toys and a Cock Up Her Nice Ass
Starring: Jonni Darkko Lea Lexis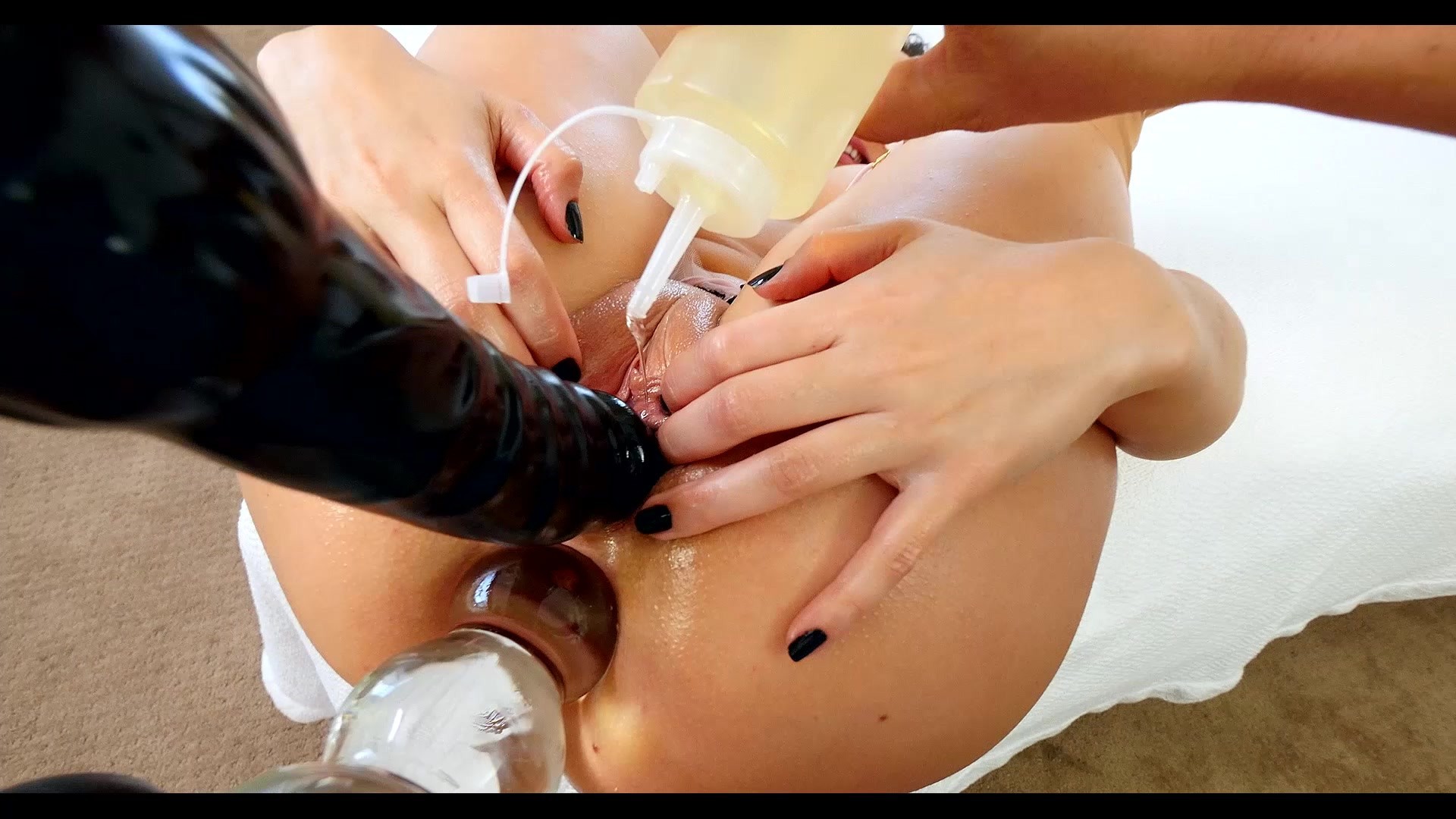 Anal expert Proxy Paige is the focal point of the third scene, looking adorable as always with her bright pink hair and neon green fishnet outfit as she struts around a giant black dildo that's suctioned against the mirror in front of her. Proxy's expressions and playful energy make this opener one of my favorites, as she guides the viewer through the acts and gorgeously tries her damndest to stuff her monster black dildo into her mouth before fucking herself on the bed with another sizable fake dong. Darkko lends a helping hand at various points throughout the scene, as Proxy gives out what are easily the most prevalent gapes in the entire film while mixing mouth and assplay wonderfully into the context, with some fist-punches to the asshole taking place in the middle stages of the scene. Proxy never lets up, constantly verbalizing her actions to her fans at home while getting stuffed and packed with dildos before the finale features an ass-stretching speculum segment where Proxy slurps out the excess lube from her asshole with a superstraw with the aide of our director. A strong scene here for the most part; I could've used a bit more sloppiness and would've liked to see Proxy get fucked but potayto-potahtoe, I guess. Proxy's filthiness combined with how adorable she is make her a perverts dreamgirl, and watching her is always an adventure in itself. Fun scene.
Beautiful Pierced Babe with Bright Red Hair Proxy Paige Takes Huge Toys up Her Ass
Starring: Jonni Darkko Proxy Paige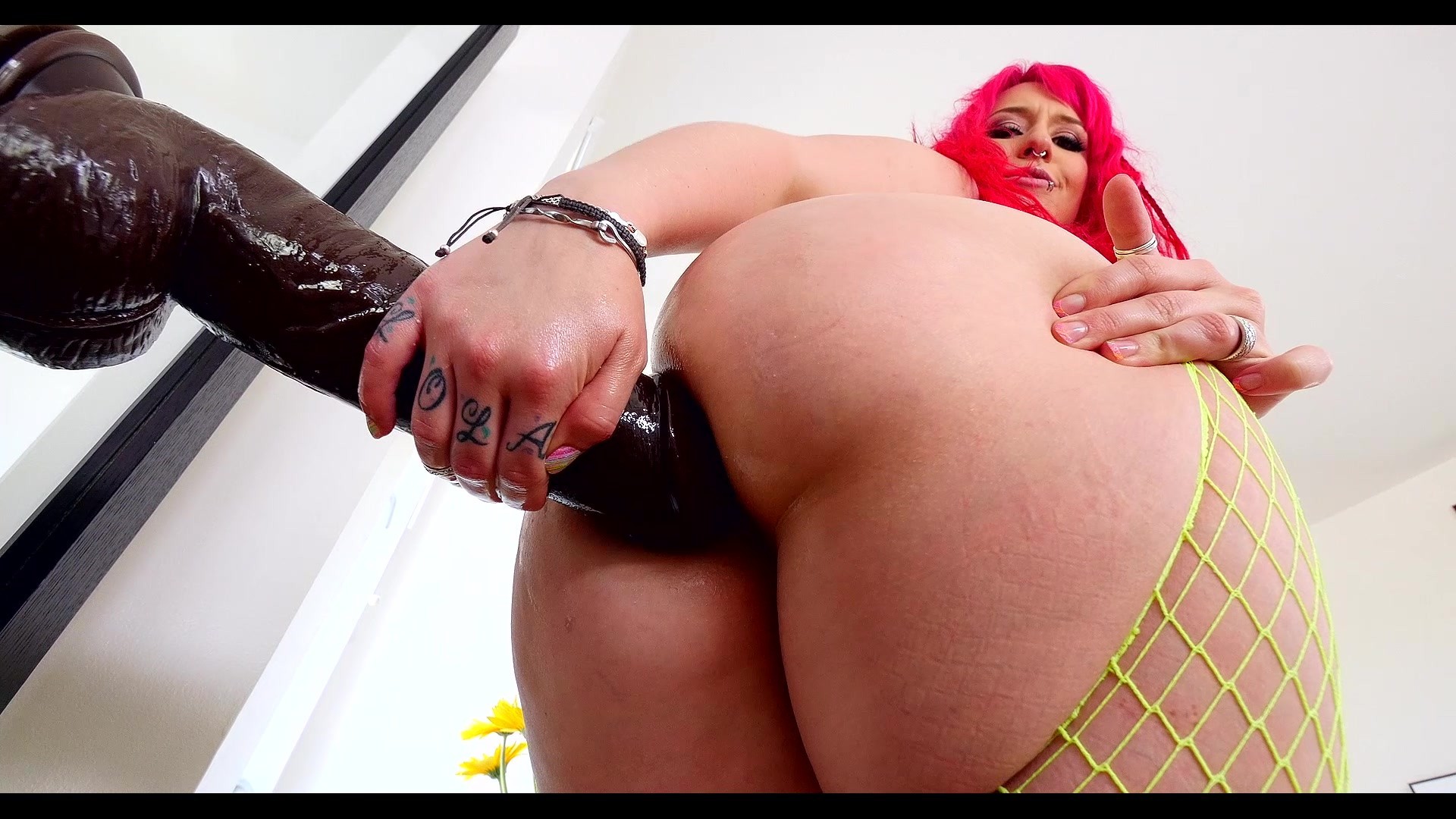 The final scene in Jonni Darkko's Open Ended #3 kicks off with a tease sesh from euro beauty Tiffany Doll, admiring herself in the mirror early on while showing off her asshole to the home viewers. Tiffany's dressed in classic lingerie attire, all black with stockings and heels that match before stripping her panties off while staring into the lens for some additionally cock-stiffening moments. Action sets in with Tiffany fucking herself with a giant dildo that lies suctioned to the mirror, before slurping off her ass juices and hopping up onto the bed to continue. The ass-blasting never ceases, with the continued assistance from our director as he throws everything but the kitchen sink into Tiffany's asshole before taking a dick-first dive into her in the late parts of it all. This scene has the first and only pussy slams of the movie, having a dildo DP in the middle stages and some ass-fisting fun in the director's cut for those interested. Things cap off with Darkko lacing Tiffany's face with a cumshot, as she slurps up the goods before the screen fades out. Another good 'un here, I always love watching Tiffany; her "up-for-anything" attitude always make her scenes a good time. COOL!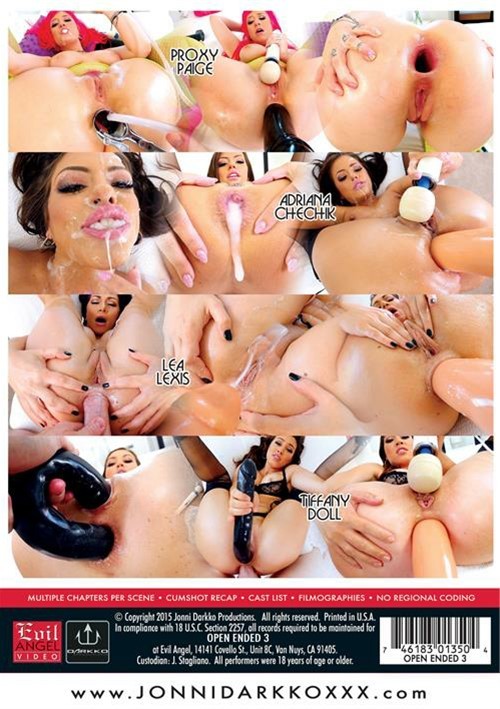 Jonni Darkko's Open Ended #3 from Evil Angel Video contained all of what we've come to know and love from the highly acclaimed director, included with some limit-pushing acts that the porn pervs are sure to love, filmed in crystal clear HD to give them some extra flavor. Adriana started out the movie with what I'd consider to be it's swan song, but the following scenes held up their end of the bargain as well, making for 3 hours of dick-pumping action that's sure to wet the proverbial porn pervert's whistle quite well. DVD extras are pretty sparse, but I'd highly recommend checking these scenes out on the web since some of it will be cut out due to 'Merican laws prohibiting girls putting a fist into their butthole on a DVD. LAME. I gotta give it to Jonni for pushing the envelope a little more lately while his peers are still churning out much of the same standard tease and fuck gonzo; there's certainly nothing wrong with sticking to what's worked in the past but I enjoy that he's putting some different girls in his films lately and using their skills to his (and our) advantage. If you dig on hardcore anal gonzo action that's based mainly around huge toy insertion then I think you'll really like this one, but all fans of Jonni should be sure to check it out.
Babes 18+ Every day with new experiences.
Open Ended 3 – Hottest SexoFilm
Porn videos and pictures of scenes with mature women, moms and neighbors, and grandmothers. Free Mature, Grannies, Milfs and Moms XXX Tube Porn Videos, The Hottest Mature Babes on the net, Updated Hourly.